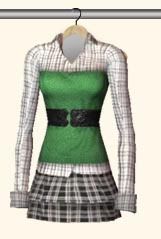 Beta Sims website
UPDATE: 04/05/2013 - Site is refusing to load for me.
Beta Sims is an adorable little website, featuring trendy, yet edgy looks for your adults, and makeup for the ladies. The looks at Beta Sims are unique, without being over the top. Site available in English and Spanish.
Downloads:
Clothing: Looks for adults, mostly for the ladies.
Make-up: Several make-up looks for your sims, including some recolors of the 3D lashes.
NOTE: Downloads found under "Shop" link.
100% Free Site!