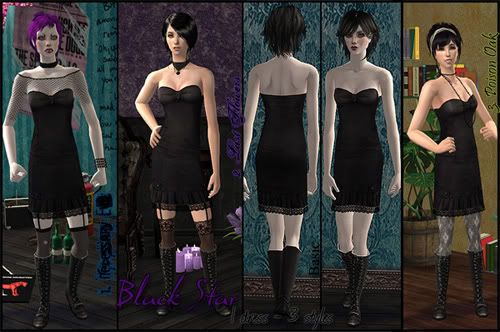 Imaginary website: Closed Site; Watch for updates on CC links.
Imaginary has closed. See links below for ways to find their awesome creations.
Downloads:
Clothing: Sets for adult male and female sims, some with a a gothic vibe. Individual outfits for adult and teen, male and female - ranging from trendy, to everyday wear, to goth.
Accessories: Unique and adorable bags and purses, and two lovely earrings for females.
Hair: Recolors for males and females, including both natural colors and neon/ streaked.
Eyes: One mystical eyeset.
Skins: One gorgeous old-fashioned skin set.
Makeup: One gothy gloss.
Buy Mode: Beautiful antique furniture sets, and two wall coverings.
Build Mode: Wall Sets.
All of the above can be found at
The Graveyard
.
Themes: Wicked Nouk Family Aspiration sets contributed by Imaginary. Themes include Goth, Free For All (worn table, Adele recolor), Pin-up, Kids Stuff, Valentines, and Guys Stuff.