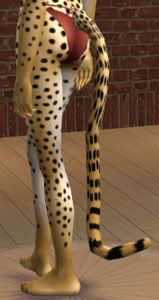 GenenSims website
Want to make a sim that looks like a cat? Wondering where everyone's getting those cool animal ear accessories? Well, this is the place. GenenSims is a long-time Sims 2 site, filled with amazing and unique goodies. Their specialty is genentic sets, thus the name.
Downloads:
Eyes: Many, many options, including default replacements for human and alien sims, and of course, cat eyes.
Skins: Default replacements for human and alien sims, including defaults for those who want cat sims or gothic sims. A HUGE selection of realistic and completely unusual skintones for your sims, including cat, alien, lizard, and just plain bizarre.
Hair: Realistic hair color do's, plus neon and streaked recolors. Many unique mohawk hairdo's as well.
Clothing: A few outfits for female adults and one for male adults.
Makeup: Lots of standard make-up options, many facial hair designs, plus the face masks needed to complete your animal-sim looks.
Accessories: This is where it gets interesting. All kinds of wearable ears (cat, dog, rabbit) in many color options; many tail options (fox, cat, short, fluffy, bunny).




100% Free Site!