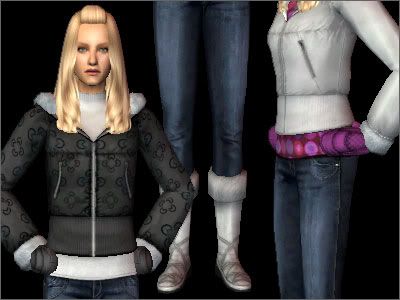 Helaene website: Helaene's website is gone, another victim of the insipid trolls that haunt our brilliant creators. You can still visit her site to wish her well and download her Sims 3 creations in one big zip.
Older CC can still be found at
Helaene's MTS2 page
and
Sims 2 Graveyard
.
Files not at Graveyard/ MTS2:
(Free registration is required to download from Sims Cave).
Some eyesets are available at Sims Cave
Eyesets & brows at Sims Cave
Downloads:
New Stuff:
Genetics: Gorgeously realistic brows and eyes.
Clothing: Lovely clothing options for all ages and both genders.
Old Stuff:
Genetics: More brows and eyes, gorgeous skintones, sexy scars.
Clothing: Many trendy outfits for your sims.
Hair: Natural hair recolors.
Makeup: Pretty glosses and other trendy looks.
Buy Mode: Posters, wall hangins, beddings, a chair and pet bed recolors.
Complete Sims: Three on MTS2, including two Harry Potter characters; more at Sims 2 Graveyard, including Scarlett Johanssen and Andriana Lima.
Mods: Face template replacement set.

100% Free Site!