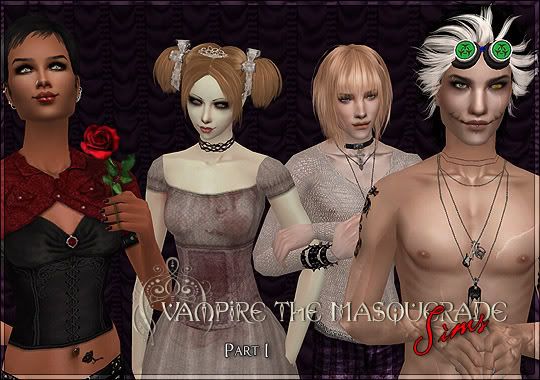 Pixel Dolly website: Site now closed. All CC available at the Graveyard.Ghanima's MTS2 Profile page: Older CC still available here.
Ghanima Atreides dark and lovely site filled with goth and grunge stuffs for your game. All CC is of the highest quality.
Downloads:
Clothing: Delicious downloads for all ages and both genders, tons of older options available at MTS2.
Hair: Both natural looks and brightly colored alternative hairstyles available; three older hairs at MTS2.
Complete Sims: Unique and beautiful sims; older sims at MTS2.
Accessories: Two gorgeous chokers at main site; wings and must-have natural nails at MTS2.
Buy Mode: Amazing, richly textured, goth and grungified object sets.
Lots: Two community lots and one AL apartment set at main site; one older residential lot at MTS2.
Build Mode: One huge Vampire the Masquerade based wall set.
100% Free Site!